Yverdon-les-Bains, Switzerland – Symbios would like to share with you an important recent publication on PubMed to support Symbios ORIGIN® PS knee prothesis.
This publication, "Custom total knee arthroplasty combined with personalized alignment grants 94% patient satisfaction at minimum follow‑up of 2 years" is online since 19 Jan. 2023 and has Dr. L.Gousopoulos, Dr. Bonnin, Dr Ait Si-Selmi and Prof. Tibesku as main authors.
140 ORIGIN® PS operated patients completed pre- and post-operative PROMs (Oxford Knee Score (OKS), Forgotten Joint Score (FJS), Knee injury and Osteoarthritis Outcome Score (KOOS), Western Ontario and McMaster osteoarthritis index (WOMAC)) as well as overall level of satisfaction. The level of satisfaction and PASS (the number of knees that attained a patient acceptable symptom state) for the different PROMs were reported as numbers and percentages.
In this study clinical results were compared to the averages scores for PROMs in a recent systemic reviews and/or meta-analysis (performed by extracting available data from scientific papers) on off the shelf (OTS) total Knees.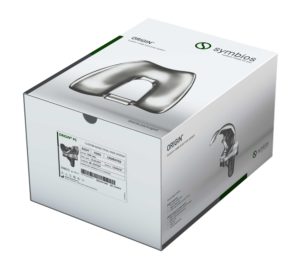 What are the main outcomes:
At a minimum follow-up of two years following individualized TKA (ORIGIN®) combined with 'personalized alignment', 94% of patients were either satisfied or very satisfied
PASS criteria were achieved in 89% for OKS and 85% for the FJS and were favorably compared to published outcomes of OTS TKA.
The functional scores are very good, at least as good as off the shelf devices.
No patients reported adverse events.
The median values of OKS, WOMAC as well as KOOS Symptoms and Pain components of the present study were all within the upper 75–100% of mean values reported in recent systematic reviews and/or meta-analyses on TKA.
What does this means:
In this scientific review, Symbios individualized ORIGIN® PS Knee has a better satisfaction score (94.4%) compared to the OTS TKA (83,6%).
That individualized TKA combined with 'personalized alignment' could yield equivalent or better PROMs compared to values reported for OTS TKA and is supported by this paper.
The proportion of dissatisfied patients in the present study (3%) is also lower than the proportion (10%) reported in a recent systematic review on eight studies with minimum follow-up of one to five years.
The paper supports the following statement:
The Symbios ORIGIN® PS reports higher patient satisfaction scores compared to OTS TKA. This is due to the individualization of the 3 compartments (medial, lateral and patella- femoral) in the knee combined with the alignment strategy. The aim of Symbios ORIGIN PS prothesis is to match the anatomical shape and size of a patient's knee. This potentially reduces the risk of bone implant mismatch compared to the OTS TKA. It restores a patient's constitutional alignment with predefined limits.
Publication: 94% patient satisfaction, Gousopoulos, 2023